Black Gutters – Are They A Good Idea – What to Consider
Color Gutter Installation Westchester County
As a homeowner in Westchester County, NY, you know the importance of maintaining the appearance and functionality of your home's exterior.
When selecting the color scheme for your gutters, it's essential to consider your home's architecture and the surrounding environment. If you have a white house, black gutters can be an excellent choice to create a striking contrast and make your home stand out.
Black gutters work on a wide range of home colors and styles; homeowners often ask if gutters should match the roof or the house color, and the answer is as subjective as the question. The right gutter color for your home will come down to your own personal preference.
But…homeowners ask….
Are Black Gutters a Good Idea?
Aside from their modern aesthetic appeal, black gutters can offer several practical benefits. Black is an excellent color for gutters as black absorbs more solar heat than lighter colors, and this can help prevent ice damming, which in turn can help to prevent water damage to your home and reduce the risk of mold and mildew growth.
We design our black gutters and all of our color gutter systems from High-quality aluminum, aluminum gutters are designed to withstand harsh weather conditions.
Additionally, it's a good idea to choose gutters that are easy to maintain; for example, black gutters are popular in a half-round gutter profile, great for easy access gutter cleaning, and when outfitted with gutter guards that can help keep leaves and debris out of the system the cost for style return is hard to beat.
Interested in learning more about Gutter Guards?
Check out our recently published guide, The Best Gutter Guards for Westchester County Homes!
What is the Best Color For Gutters?
In this article, we are going into detail on black gutters and why they have become so popular in recent years, but whether or not they are considered the 'best' color remains subjective and will vary depending on location and individual preferences.
While black gutters can provide a striking contrast and enhance the appearance of your home, it's essential to consider your style and the overall aesthetic of your property before making a decision.
Ultimately, the best gutter color for your home is one complements its architecture, landscaping, and surrounding environment while also providing the necessary functionality to protect your home from water damage.
Black Gutters on a White House
We are most commonly called on to install black gutters on white homes. Choosing black gutters for your white house is a bold and attractive option that can add both curb appeal and practical benefits. With the right materials and installation, you can enjoy beautiful and functional gutters that protect your home and enhance its appearance for years to come. If you're considering upgrading your gutters, contact a local gutter installation company. If you're living in Westchester County, NY, contact our team, and we will help you choose the right option for your home.
Let's work together to find your perfect outdoor scenario! Give us a call at 914.447.0254 or email us at info@georgesseamlessgutters.com.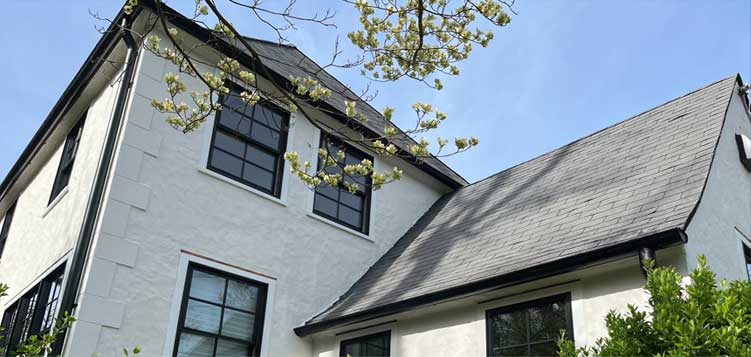 Recent Project: Bronxville NY, Black Gutter Installation

Recent Project: Bronxville, NY, Black Gutter Installation
Throughout this post, we have highlighted pictures of a Bronxville home with a white exterior. We fitted the home with oversized, six-inch half-round gutters in black; the results speak for themselves. This house got an affordable modern makeover, and the homeowners are thrilled!
Are you considering black or color gutters for your home?
Color gutters can be a stunning addition to your home's exterior, but as with any design choice, there are also some potential drawbacks.
Here are some pros and cons of getting black gutters, as well as some other gutter colors you may want to explore:
Pros:
Black gutters can provide a bold contrast that adds drama and visual interest to your home's exterior.
They work well with dark roofs and can help melt snow faster in the winter.
Black is a neutral color that works with many siding colors and materials.
Cons:
Black gutters can overpower some homes and may not blend in as well with the siding and roofing as other neutral colors.
They may be more prone to sun fading over time, especially in areas that receive a lot of sunlight.
Black may be trendy now, but it's possible that it could go out of style in the future.
Other Gutter Colors to Explore:
If you have a multi-colored exterior, consider using one of those colors as inspiration for your gutter color.
Popular home colors in Westchester County:
White – A classic choice that never goes out of style.
Gray – versatile and sophisticated, gray is timeless and has become increasingly popular in recent years.
Beige – a warm and inviting color that can provide a neutral backdrop for a range of accent colors.
Blue – from light sky blue to navy, a shade of blue can work well with most architectural styles.
Green – A natural and earthy color
If you have a relatively bland color palette, black gutters may provide the pop of contrast you need, but you could also consider other bold colors like red, blue, or green.
For a timeless look, consider matching your gutter color to your roofing or siding color, or choose classic white gutters.
Ultimately, the best gutter color for your home will depend on various factors, including your personal style, the architecture of your home, and the surrounding environment.
Take the time to explore your options and consider how each color choice will impact your home's overall look and feel.
Contact us today
to learn more about our services and to schedule a consultation.

If you're ready to learn more about installing new gutters on your Westchester County home, then
contact George's Seamless Gutters
today! Our team of experts will help you choose the right style and material for your needs and provide a free estimate for installation.